People love the vista always for the fancy looking GUI effects not for functionality, and quite opposite is the case for windows XP. 😛
Today, we have come up with top 4 applications which enables flip 3d and aero effect XP just like vista.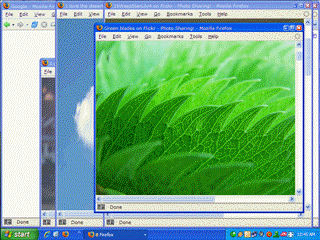 Let's discuss about all these applications which will implement flip 3d effect in XP
1. TopDesk (shareware) – It is a Alt-Tab task switcher from Otaku Software to provide flip 3d replacement for Windows XP which allows you to instantly view thumbnails of all open windows. It has almost quite the same Windows Vista Flip 3D feature which allows open windows to flip and tilt in a sliding sideway stack with transparent windows effect in 3D layout.
[ Download TopDesk ]
2. WindowFX (Shareware) – It not only allows to have flip 3d effect in windows XP, it adds special effects includes shadow under windows minimize/maximize/close/open animations.
3. Shock Aero (Freeware) – Another cool application to get flip 3d effect on XP just like vista, but you can't customize as per the shortcut key to initiate flip 3d effect.It assigns Alt+Tab key to start Flip 3D. Portable version of this program is also available.
4. WinFlip (Freeware) – This program will give you the same experience of Windows Aero and flip 3d experience.It runs minimized in taskbar and Aero effects like flip 3d. It does not require any installation. Download the zip file and double click winflip.exe to load and press Window + tab key to initiate flip 3d.
[ Download WinFlip ]
I found four software's to implement flip 3d on windows XP, but if you know fifth one let us know. 🙂